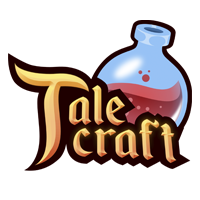 TaleCraft
TaleCraft

価格
過去最高値
Nov 28, 2021 (2 years ago)
過去最低値
Nov 26, 2021 (2 years ago)
ヒストリカルデータを見る
TaleCraft community
Disclaimer: This page may contain affiliate links. CoinMarketCap may be compensated if you visit any affiliate links and you take certain actions such as signing up and transacting with these affiliate platforms. Please refer to Affiliate Disclosure.
TaleCraftについて
TaleCraft is a Gaming NFT project on Avalanche. It is a card game that you can mint NFT by making various crafts with 4 main cards of element and sell these cards on the marketplace. In the TaleCraft, the 4 main elements are given in Alchemist Chests that will be sold weekly. So the cards are limited. It has a deflationary structure in itself. The cards used in each crafting are burnt TaleCraft is a Gaming NFT Metaverse project on the Avalanche.
TaleCraft's official token is the Philosopher's Stone ($CRAFT) Crafting System Floor Price Competitive Marketing System Alchemist Chest Weekly Burn&Reward System Liquidity System Limited Supply Calculator and Guideline Special Marketplace Artist Package Platform Crafter Pool
The types of alchemist cards are initially 160 types. These 160 cards have 5 different tiers. These tiers are respectively stone tier, iron tier, silver tier, gold tier, philosopher's stone tier. The levels of the cards are determined by the difficulty and rarity of the card's production. Only 4 out of 160 cards, the 4 main elements, will be available on a weekly basis. All remaining cards can be crafted by users.
Alchemist's chest is a system where 4 main elements are sold per week. You only need 4 main elements to mint cards in TaleCraft. These are Air-Water-Earth-Fire. These 4 elements are supplied by weekly sales. Alchemist Chest is a kind of chest opening system. 10,000 units are put on sale every week. The Maximum purchase right is 200 chests. The Alchemist's Chest is purchased with 10 $CRAFT + 0,1 AVAX fee. It has FCFS (First Come-First Serve) system. Only 4 main elements come out of this chest and it has a randomized structure. Of the 10,000 chests, 2500 are water, 2500 are fire, 2500 are earth, and 2500 are air.
The Crafting System in TaleCraft has a burn mechanism. The two main cards to be crafted are placed on the crafting table. The crafting process takes place in exchange for the cards placed on the craft table and some craft fees. The craft fee is minimum of 1 $CRAFT for each craft. A new card is minted as a result of Craft. Two cards used for craft are sent to burn address. Each craft has different durations and fees depending on the tier of the card. Users can do multiple crafts at the same time.