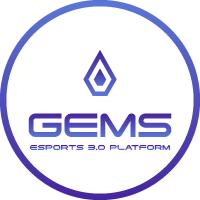 GEMS Esports 3.0 Platform

GEMS Esports 3.0 Platform

price

 
Self-reported circulating supply

 

84,000,000 GEMS
GEMS Esports 3.0 Platform community
GEMS Esports 3.0 Platform news
About GEMS Esports 3.0 Platform
GEMS is an Esports 3.0 aggregator platform within an O2O ecosystem. It propels Esports into 3.0 by integrating Gamefi, Metaverse and Socialfi elements, and leverages on its founding partners' chain of Esports hotels.
GEMS core business pillars include a portal, a NFT rental library, a Fanfi studio and a competitive pools arena.
GEMS is an one stop destination for gamers that integrates the young population into the new sharing economy.